The world's shortest living man has met with the tallest person in the British capital, London, for the very first time to mark the Guinness World Records Day.
Sultan Kosen, who is 8 feet 1 inch tall (2.46 m), and tiny Chandra Dangi, who measures only 21.5 inches (54.6 cm), met and shook hands outside the UK Houses of Parliament on Thursday to commemorate the 60th anniversary of the Guinness Book of Records. "I hope from now on we become really good friends and do more things together," said 31-year-old Kosen, inviting Dangi, who is from Nepal, to visit his country, Turkey. "Even though he is short and I am tall, we have had similar struggles throughout our lives and when I look into Chandra's eyes, I can see he's a good man," Kosen added. The world's tallest man, also holds the record for largest hands of a living person.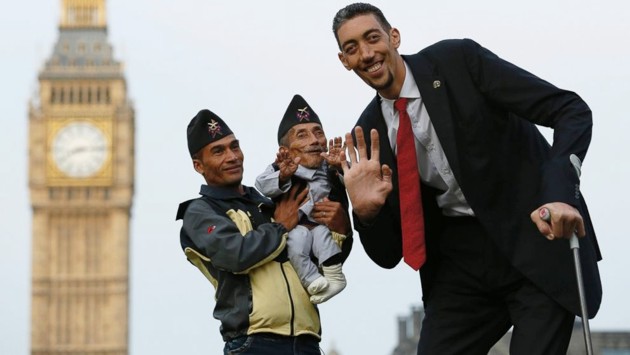 "I never imagined I would be in the book, I dreamed about it, but it was still a huge surprise," he said about the time of his entry into the Guinness World Records. Beating the benchmark set by Gul Mohammed from India, who measured 22.5 inches, 75-year-old Dangi is the same size as six cans of baked beans stacked on top of each other. "I was confined to a small part of Nepal, now I am known to the world and everyone knows about me being the smallest man," said Dangi, who lives in Reemkholi, a remote village in the Dang district of Nepal, southwest of the capital, Kathmandu. "It makes me extremely proud to represent Nepal all around the world, I'm extremely humbled by the support I receive," he stated. Up to 600,000 other Guinness World Records title hopefuls from across the globe participated in the 2014 Guinness World Records Day. The Guinness Book of Records broke a record of its own 10 years ago when it became the best-selling copyright book in the world. Guinness World Records Day was set up to celebrate the date.